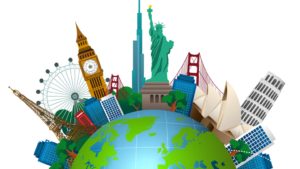 With Summer in full swing and kids out of school many of us take vacations. No matter if it is a weekend getaway to another Province or a flight across the Globe, Travel Insurance should be the top priority on your trip planning checklist. And we can help you to check it off!
Most Canadians are unaware that provincial health plans will not cover all their medical expenses.  Air evacuations are one, land ambulances are another - anything outside of core services may not be covered.
Whether you travel close or far your travel insurance should include health, life and disability coverage that will help you avoid large expenses, such as the cost of hospitalization or medical treatment outside Canada. If you are flying, insurance for flight cancellation, trip interruption, lost luggage and document replacement will save you from major disruptions and additional costs. If you are travelling by car, make sure you have driver and vehicle coverage in case you have an accident abroad.